Tips for traveling - don't make my mistakes
I have made a lot of mistakes while booking travel, from packaging to choosing flights.
I made a lot of mistakes I learnt on my first travel with my family and I must say that I was really lucky to get pass on.
Packaging
This is my favorite article about packing
https://levels.io/carry-on-world-travel/
But it doesn't fully cover cold places, so in case you are going 3500m and you are from a place like Panama (sea level height and warm climate) pack at least one good cote or buy some locally.
Try to talk with people. I got altitude sickness and with help of some coca tea, and other derivates I managed to get through my trip.
Choosing hotels
Choosing a single apartment was a lot  cheaper than a full hotel room. Take this tips in consideration
Consider the location: When choosing a hotel or apartment, it's important to consider the location. Look for accommodations that are centrally located or in areas that are convenient for the activities you have planned. Consider factors such as proximity to public transportation, restaurants, and attractions.
Read reviews: One of the best ways to get an idea of the quality of a hotel or apartment is to read reviews from previous guests. Look for reviews on websites like TripAdvisor or Booking.com, and pay attention to comments about cleanliness, amenities, and customer service.
Compare prices: When comparing hotels and apartments, don't just look at the nightly rate. Consider the total cost of your stay, including any additional fees or taxes. Look for deals and discounts, and be flexible with your travel dates if possible.
Think about amenities: Consider what amenities are important to you when choosing a hotel or apartment. Do you need a gym or pool? Do you require a kitchenette or laundry facilities? Make a list of your must-haves and look for accommodations that meet your needs.
Consider the size of your group: If you're traveling with a group, you may want to consider renting an apartment or vacation home instead of a hotel room. This can be a cost-effective option, and it can also provide more space and privacy for your group.
Look for special offers: Many hotels and apartment rentals offer special promotions and discounts throughout the year. Look for deals on social media or travel websites, or sign up for email newsletters from hotels or travel companies.
Check cancellation policies: Before booking a hotel or apartment, make sure you understand the cancellation policy. Some accommodations may offer free cancellations up to a certain date, while others may have strict cancellation policies.
My history
I found an apartment that was well located, but it was situated at a high elevation and had a difficult path to reach it, which was challenging for my family. This turned out to be a mistake, but fortunately, I was able to discuss the issue with the rental company in time to avoid having to pay a cancellation fee.
When choosing accommodations for your travels, it's important to consider factors such as location, accessibility, and amenities. While a well-located apartment may seem ideal at first, it's important to take into account any potential challenges or inconveniences that may arise from its location.
If you're traveling with family or friends, consider the needs and abilities of everyone in your group. Is the location easily accessible for those with mobility issues? Is the path to the apartment safe and well-lit, especially if you'll be arriving late at night? These are all important factors to consider when choosing accommodations.
If you do find yourself in a situation where your accommodations are not suitable for your needs, it's important to act quickly to avoid any cancellation fees or penalties. Contact the rental company as soon as possible and explain the situation. Many companies are willing to work with you to find a solution that works for everyone.
In summary, when choosing accommodations for your travels, it's important to consider factors such as location, accessibility, and amenities. By taking the time to research your options and consider the needs of your group, you can ensure a comfortable and enjoyable trip. And if any issues do arise, don't hesitate to speak up and find a solution that works for everyone.
Flights
Book flights in advance: The earlier you book your flights, the cheaper they're likely to be. Be sure to use price comparison websites to find the best deals.
Be flexible with your travel dates: If you can be flexible with your travel dates, you may be able to save money by traveling during off-peak times.
Pack smart: When packing, think carefully about what you need and try to pack as light as possible. This will save you money on baggage fees, and it'll make it easier to navigate airports and train stations.
Research your destination: Before you go, do some research on your destination. Find out about the local culture, customs, and must-see attractions.
Stay in budget accommodations: If you're traveling on a budget, consider staying in hostels or budget hotels. You can also look for apartments or guesthouses through websites like Airbnb.
Use public transportation: Public transportation is often a more affordable way to get around than taxis or rental cars. Look for city passes or transportation cards that will give you access to buses, trains, and other forms of public transit.
Use travel rewards programs: Many airlines and hotels offer rewards programs that can help you save money on future travel. Sign up for these programs and take advantage of any perks or discounts they offer.
Travel during shoulder season: The shoulder season is the time between the peak and off-peak seasons, when the weather is still good but there are fewer crowds. This can be a great time to travel if you want to save money and avoid crowds.
Be prepared for emergencies: Make sure you have travel insurance that will cover you in case of an emergency. Also, keep important documents like your passport, visas, and travel itinerary in a safe place.
Be respectful of local customs: When traveling to a foreign country, it's important to be respectful of local customs and traditions. Learn a few key phrases in the local language, and be open to new experiences and ways of doing things.
References
A cool website to know about countries where you can go with your passports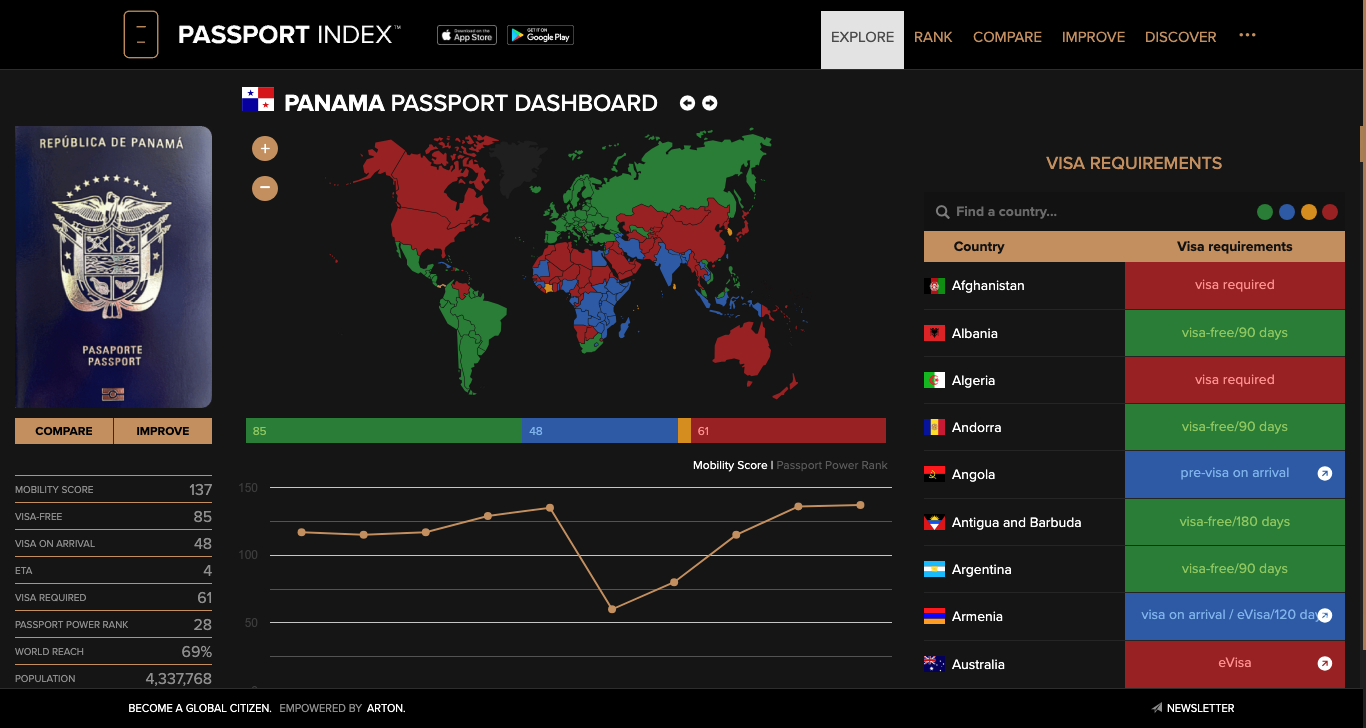 Plan a trip